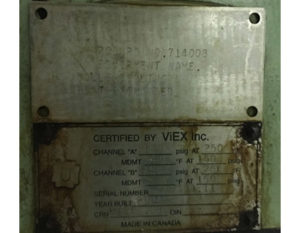 You have just taken on a new position with your facility and things are going great until one day your boss runs into your office and announces, " #3 heat exchanger is leaking!".  You go downstairs and sure enough it's leaking. You're not a heat exchanger expert but you start trying to figure out the make and model so you can go online and find information on how to fix it; the guy who retired had your job and installed these 20 years ago...so this task falls on you.
Panicked but determined to solve this crisis you spot a serial number or a nameplate and you take a picture or write it down. Back at your desk you type in the info and discover they are out of business or the model is no longer made.  Perhaps you just find companies whom will sell you the parts with no support and guidance.  Now what?
We have had many customers contact us with this type of experience, but there is good news; even when a manufacturer (OEM) goes out of business you have options.
Case Study – ViEX
Recently we did an email outreach to users of ViEX heat exchangers. In case you are not aware ViEX closed their doors 15 years ago; leaving many without the service and support that is needed to properly maintain this line of gasketed plate heat exchanger.
Our email informed these users that our company owns all the former ViEX serial numbers as well as many of the molds to produce replacement plates and gaskets for ViEX heat exchangers. This information allows us to service, refurbish, and manufacture new replacement plates and gaskets for most all ViEX V, N, and VX series Exchangers.
And with years of experience in the heat exchanger industry with locations in Asia, New York, Florida, Houston, and Toronto Canada; we were ready to serve their Gasketed Plate Heat Exchanger needs.
Cost Savings and Customer Support
Many people don't realize that most GPHE OEMs purchase the plates and gaskets for their units from one of the few pressers in the world. Unfortunately, to protect their business; they will often change model numbers and frame designs to force their customer base to keep buying from the OEM for these parts. We are able to support these replacement parts' needs; saving the customer huge OEM mark ups. Since we are experts in this field we can fulfill many replacement part needs and in many cases; saving you from huge OEM mark ups! This also helps us to determine and guarantee our quotes for your heat exchanger.
Many of customers have come to rely on our quick answers and in the field free service support and advice while you are working on your unit. Let us guide and direct you through the process; saving you time and frustration in the process.
Call us today with your heat exchanger gasket or plate problem!